see the Batu Secret zoo - Jawa Timur Park 2
Front Gate

It is long weekend! the first and the last long on this year!
I take this rare opportunity to go to my home-town (with more expensive flight-fare than usual). Whats cross in my mind when I landing to Abd Rahman Saleh airport is i must visit Jawa timur Park 2 this holiday. I've seen on the TV before, and make my curious about this :D
So I take about 45minutes trip via private car from airport to Jawa timur Park. Well just as i expected, the parking area is full so i must wait about 15 minutes to get parking. Jawa timur Park 2 is located not far from Batu Night Spectacular (BNS) nor Jawa Timur Park 1. Jawa Timur Park is zoo, but not ordinary zoo.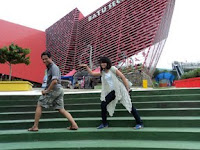 Me and My Bro
On the weekend, the ticket cost IDR 50,000 and will be IDR 40,000 on weekday. Hmmm...I think it is bit expensive because i just visit and see animals, i'm not playing with animals ( i prefer Taman Safari I&II if i compare the cost-worth it or not). But, as i said earlier it different zoo than common zoo, and the animal collection is great.Why is it different?it is like modern zoo with unique architecture. the directory is quite clear and there's only one path to walk so the visitor wont be get lost or confuse. At some (not dangerous) animal, we can almost touch the animal because no barrier and wire cage, it is just a quite short fence.
Hit By Rhino
My favorite spot at jatim park 2 is tiger park. There are tiger(big and dangerous,also very beautiful), puma, cheetah, Sumatra tiger,india tiger,leopard, and the greatest lion ;)
Sumatra Tigriss inside Aquarium




White Lion inside the Aquarium
Not only inside the wire cage,visitors can also the wild animal thru glass window. I love the decorative at Indian tiger cage. The background is broken house with abandoned cars, and the best of all the tiger walk slowly among the broken environment (see the image)
There are also animals from savanah area, we can see the waterbuck who have very bad smell to make their predators stay away, and sable. In one group of sable there is only one male sable among some females (well remind me of someone) :D
There is also an aquarium contains of various fishes, electric eel,rabbits side by side with nemo,crocodile and owl
Act like Queen of egypt
At the end of journey, we can visit animals museum, and gift shop. At the gift shop we can also buy dragon fruit and another meals.
Gift Shop
Oh plus,if you intend to sleep close to this spot,there is also available Pohon Inn which is decored attactively :)
The Museum
In Front the Inn
Well that's all my report from jatim park. If you have more questions,please PM me :)
The Museum
Bengala Tiger
Try to ride zebra in there (children only)