Hunting the Beaches at Bali Island
Children playing at kuta beach
Bali!!!!where God created romantic beach,lake and mountain almost all over the island.
My trip to Bali,actually incidentally. I just need holiday and it's been a long time since my last time went to Bali. My memories about Bali is all blur. What I remembered it just about Balinese dance (because last time when I went there I am in love with traditional dance). So for my current visit, I committed to explore the beautiful landscape-beach,lake and mountain.
Early morning, Saturday morning when sun didn't come up, and cloudy cloud enveloped the sky. From my hotel at Legian, I directly go to kuta beach (just wanna check the condition) that located close with legian. Arriving, I see the red flag at the coastline indicated that the weather is considered dangerous for the visitor to surf.
Just like I expected, kuta beach isn't beautiful anymore. Too much visitor bring the consequences to the sanitation. I still found some of garbages at the several spot and the sand isn't pure white anymore.
The interesting part, I viewed some children playing freely at the coast line. Well, despite how ugly the condition of beach, children still love kuta beach.
 I stayed there for 15minutes and then go to my next destination -tanjung benoa to experienced the water sport.
Tanjung benoa or famous to be called Nusa dua beach, it isn't far from kuta beach. In there, we can chose one of hundreds company that offer water sport program. We can parasailing, diving, dive walking, snorkeling, banana boat, sky-boating, etc. The range of prices are different between one company and others. No need to be scared to pay too much as long as we can bargain. They offer packages that much more cheaper than not package. Actually I want to try a lot but due to the limited budget (geez again!) and my mate isn't adventurous enough, I just try snorkeling and visiting turtle island. Snorkeling is offered IDR 200.000,- and visiting turtle island is IDR 500.000,-. Doesn't make sense, rite? So I bargain those two activities is IDr 150.000,-.
Snorkeling @ Tanjung Benoa
The spot is awesome! The water is clear, and there are lot of fishes. Don't forget to bring bread to feed the fishes. Several times I tried to catch em with my bare hand but failed (of course).
It is my second time to do the snorkeling and of course it is more success than the first time. The fishes is various and the important thing the equipment is clean (different from
anyer
) . Well, I think it is more satisfying !
After an hour snorkeling, the next destination is going to turtle island. The turtle island island isn't faraway from snorkeling spot, just 10 minutes on boat.
Arrive there. We shall pay IDR 5000 for donation. Well, the turtle island is conservation for the turtles. We can see the baby turtles that still in nursery,and the very old turtles (I guess it's 150years old and 100kgs weight). Try to lift the big turtle, and found that they will try to slap you. Its funny that their fin (or feet?) could slap you. but don't try to lift the oldest one, because it is way too big and heavy and they easily get mad. Beside turtles, there are several animals conservate in there like phyton, lizards, bat, eagles and etc.
Sunbathing At Padang2 beach
Finishing playing with the turtles, i should back to the seashore and get dressed to continue my adventure- to jalan uluwatu-pecatu. It took about 45 minutes ride From nusa dua beach to jalan uluwatu-pecatu. I didn't go to pura uluwatu (which turn right) but I go to left and going up to Padang-Padang beach. The road is bit going up and down, turning right and left. But when I arrived there and see the scenery from the bridge!!oh my gosh!!

Only one thing that crossed my mind, God must have spent a little more time to create this beach. The beach is blue-green, the sand is pure white and there is just few visitor in there.
Parking the car, I shall take a walk to the downstair and going down to the in between of giant reef. When I see above, there are big trees with giant roof, it's like entering the dark dungeon.
Scenery from the bridge
Not for long, then I see a bright light and the blue- very blue ocean lined up with white sands. Gosh! It is breath taking, the blue colors indicated that the beach is still 'virgin'.

The seashore itself isn't very long. It is blocked with giant reef. But didn't matter tough, the beauty attract both foreign and local tourist to sunbathing.
Wave at Padang2 beach
 Me also,I can't help my self to not lying in the white sand just because I am grateful to lucky enough to see the beautiful beach!
Blue point is located higher than padang-Padang beach. Local said that blue point is the top of the beach.
Different from padang-Padang beach where visitors would love to sunbathing, the blue point is surfer's paradise. The wave is quite strong crashing the reefs.
The path from parking area to the beach is quite challenging. We must hike the stairs-the ancient stairs. During my walk, i should to take a pee. So i go to the public toilet and voluntary paying iDR 5000 just for pee. Yes IDR 5000 just for pee (Rolling my eyes).
the ancient bridge
The scenery from the top of the hill is superb!!!!we can see the green of the sea and crystal clear water. I can see the green of corals. Wow!just wow! It is breath-taking. When you are here, dont forget to hold on your hat or just tie your hair because the wind blows strongly.  
The turqouise sea
Visitors also able to sunbathing from the hill while hearing the sound of wave. It's paradise!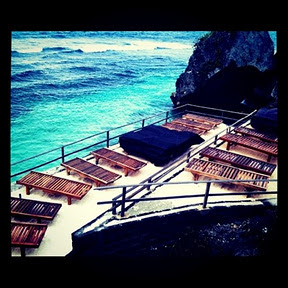 Sun bathing spot @blue point
Going down to the shore, I just can't help my self to think how this great spot happens. The giant reef has a relief that it was eroded by the wave. Long time ago, or when the sea tide the shore below the giant reef shall be full of water. There are stalagmite at the reef surface. May be if I go there every day, I will be the productive writer because the inspiration
The Reefs
Because of the strong current, the surfers love this spot and local citizens Know How to creAte money from surfers. There are a Lot of services for surfers like Surfboards reparation, photo snap for surfers (you surf we shot), and surf equipment shop. Dont imagine there are big building for the shops. It just simple and house-looks shop. This spot Is still far from the sophisticated impressions. But there Is One resort stand out in This area. It Is Blue point resort, yes It Is resort where Dewi Sandra and Glenn fredly got married. From the street, we can see the chapel where They got married. Magnificient!

playing with the wave
Well thats all my report from my first day in Bali. I will tell the rest of my days in Bali at my separated articles. I Will tell about the beauty of bratan lake, tanah Lot and of course the Most favorite activities for woman - shopping in Bali.
I give 4.5 out of 5 Stars for Padang-Padang beach and Blue point. You should go there but please be responsible...Dont throw garbages and destroy the environment!!!
Actually I want to post hundreds beautiful picture in there and less description. But it didnt fair though, for the more beautifull picture in bali, please check out my instagram @theflybird. I think if I post in there should be appropriate.
Posted using BlogPress from my iPhone
You might also like:
Notes of Umrah, Islamic Journey
Brunei Darussalam, Country with Strong Malay and Moslem Culture
Notes of Umrah, Islamic Journey
Don't Miss these when You Go to Singapore
Universal Studio Singapore
Hong Kong, the amazing landscape
Exploring Bali Island, Indonesia
Hunting Beaches at Bali Island, Indonesia
Trans Studio Bandung, Indonesia
Pantai Anyer, Banten
Kawah Putih Ciwidey, Bandung
Tea Walk at Gunung Mas Tea Plantation, Cisarua Bogor