Visit Bandung - 1
I usually visit Bandung once in a week on the weekend :)
There are facts about Bandung ( that I already know)
1. It is about +\- 130 kms from Jakarta, it takes 2,5hours normal time and more than 3,5 hours on the weekend ( because of traffic dumb :D)
2. There are lot of car with B letter at Bandung (again on the weekend) and they causing a traffic jam (and revenue of course)
3. Looking for clothes?fashion? Visit , re martadinata, setiabudi and riau street when looking for branded n cheap item (not a newest model) and secondhand things, visit lembang if u looking for outdoor amusement such as outbond, pick strawberry direct from it's tree, and of course food,food and food
4.looking for pets? There are some spot such as infront of BIP, giant hyperpoint, near Pasteur, and rabbit? Again visit lembang :)
5.want to hang out all over nite? visit paris van java, feels like in hong kong there:), a lot of branded outlet with normal price :) ( read: hard to reach hehe)
Last week I finally get a chance to visit kampung gajah ( sersan bajuri street). It is new outbound spot, so there are still lot of underconstruction building.there are a lot of automobile to play with with range price 35-150rb rupiah per 15 minutes. And flying fox (quite thrill).
not far from kampung gajah,try beautiful resto: sapu lidi. It's a resto with village environment and delicious food :). The price is quite cheap. I recommend this place,so worth it!!!!
Gate of Kampung Gajah
Try this and pay 135 rb per 15 minutes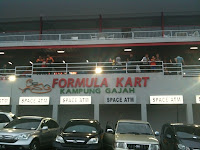 Challenge your speed with go kart


Try Japanese resto there
The teletubbies Park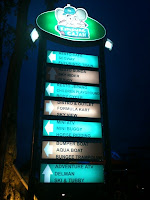 Directory
Village atmosphere at sapu Lidi
Recommended Fried rice @ Sapu Lidi
"saung over troubled water "
Rotten Bridge