Swing Your Head @ Trans Studio Bandung



It has been long time since my must-do activities- visiting new place. I've been hiatus for almost 2 months, and finally I've visited Trans Studio Bandung.

Ticketing
Trans Studio Bandung is located @ Bandung-West Java. If you come from Jakarta, you can choose to exit via Buah Batu toll way. Trans Studio Bandung attached directly with Bandung Super Mall (BSM).
Trans Studio Bandung brings new concept of amusement park because it is indoor park. You don't need to be afraid to be exposed under sun light! It is 100 % air conditioned.

But unfortunately, the indoor park brings consequences i.e. limited height and wide (at some vehicle this limitation is not applied).
After I parked my vehicle, I directly ride the escalator which brings me to the ticketing area. First I must register myself to get an access card then I must 'refill' my card with some amount of rupiahs. At weekend, ticket cost IDR 200.000 and weekday is IDR 150.000. If you hate to queue, you can buy VIP access with add IDR 200.000 to your expense.
Studio Central Gate
For your information, you cannot bring any snacks, drink, umbrella, etc to the park. The officers will inspect every bag of visitor to find any aborted thing.
 

Trans Studio Bandung consists of 3 main themes i.e. Studio Central, Magic Corner and The Lost City. It is like the ' mini' series of Universal studio Singapore. First I get into Studio Central. At Studio Central I could found Holywood's decoration @ 60's (but Harrods is there!?? it is makes me confuse because Harrods I know is located @ London).

Before ride the Roller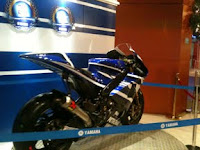 The Anchor excitement at Studio Central is Yamaha Racing Coaster. It is claimed the fastest roller coaster in the World (based on quote @ guide map). Yes, it is fast but what about thrill? I vote for Universal Studio. This roller coaster could be seen in front of this park (the one and only outdoor vehicle).

Actually, it is thrill enough. So, after we seated, we can see Lorenzo on TV counting in France- cinq-quad-trois-deux-uno)…then whoossshhhh rollercoaster is boasted so fast,

going up

and left, and then turning around and down, turn right, and with maximum speed going up 180 degree, and suddenly it is retreat with as same as movement when going forward and with same speed. The speed is awesome but It doesn't make me scare because no frontal-down movement which usually make me want to die when ride it

hahahahaha…The roller coaster soaked my head pretty hard! Oh ya, regarding the roller coaster named Yamaha, there are some motor cycle at queue line like motoGP motorcycle and assembled-motorcycle, but unfortunately, we cant touch it!just see it from afar.

When I was queue in there, i keep reminding about how visitors keep their bag and other thing once they got in.
The deposit system here is as conventional as dunia fantasi. Visitors hand over their bag and other thing like glasses, wallet to the officer and the bag is just lied by the officer on the floor. I noticed that in Universal studio Singapore, visitors are prepared a free deposit box for first one hour. It is safer but rather complex, but in other way if our (precious)bag just lied there on the floor...i prefer keep it at deposit box...
Next after roller coaster, I talk a walk and see the map, it should be Marvel 4D studio there! But it is still under construction. I am looking forward for this 4D studio and curious about 'marvel' name in there.
After take few pictures at holywood decoration, I went forward and there is trans car - I didn't get in there because it is more like dedicated for child than adult. So I go to the next venue- Vertigo. Vertigo is giant windmill and again claimed the biggest one among the others indoor windmill. I quite traumatic with windmill so I didn't played it. The last windmill I ever tried successfully make me throw up hehehe…
Marvel 4 D studio (underconstruction)
Holywood decoration
Still at Studio Central, the next venue is Giant Swing, I recommended this for those dreaming a night mare hahahaha. Have u ever tried 'kora-kora' at Dufan?this is worse!!!!! When I queue and see the swing upper my head..geez my stomach is cramped! But there is no way back! I tried and picked a seat at 60 degree and hoped that I don't have to face directly the down-swing. But I'm not lucky enough…at the top of swing, I faced the down movement directly and scream as loud as I can. Not only once, but fifth times!!!!!At fifth swing, I lost my voice and begin to cry. My Gosh…I swing my head and lost my balance….hahahahahaha….I vote 5 star for the swing!!!!!!!
The Giant Swing (look at the degree)
Lost City Gate
After the Swing, There is a big hall named amphitheater. At certain hour, there are performances like singing, dancing, etc. That moment, there was musical theatre with fire-show.
After Amphitheatre, I turn left and go to the lost city (I don't know why the some park love to use word lost like lost city, lost world). At the lost city there are several venues like Sky Pirates, Jelajah, and Kong Climb. First I tried Jelajah. Just like its called, Jelajah mean adventure. Visitor is brought to deep forest by a boat.
There are crocodile, hippopotamus and origin ethnic.

At the middle of adventure the boat is going fall 13 meters height, quite scary and luckily no need to get 'very' wet.
Just the next of Jelajah is Sky Pirates. The concept of sky pirate is like gondola. If you want to peace your head you can ride this one and just sit see the scenery.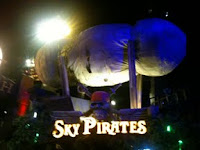 Gate of Sky Pirates
13 meter fall
The last theme is Magic Corner which consists of Dunia Lain the ride, Negeri Raksasa, Special Effect Action, Dragon Riders, Pulau Liliput and Blackheart Pirate Ship. I only experienced the Dunia Lain the ride and Negeri Raksasa. At Negeri raksasa, is same concept with hysteria at Dufan. First visitor is seated than lifted to the top and seen a LCD with a giant talking there (the LCD is combination about 12 LCD TV 32 inch' so it is very not-enjoyed to see), and how about the scenery? It is black dull…we can see the ceiling and may be next several months: spiderwebs. Poor!!!) But First drop is quite shocking, and the after first drop, I felt nothing hihihihihi….I need more than this!!!!

Fire Attraction
Performance in front of amphitheatre
Amphiteathre stage
Magic Corner Gate
The last venue I visited was Dunia Lain the Ride. It is quite scary when we can see 'magic' creature whose believed exist in Indonesia, more over Bandung.
Hmmm…over all, there are my comments at Trans Studio Bandung:
1.
This is urgent!!! Please add toilet at least one venue one toilet. When it is crowded, the toilet's queue is very frustrating.
2.
We are not allowed to bring drinks, but we are 'forced' to buy drink inside the park. We must top up our balance at access card first. Every transaction here is cashless. Though there is an ATM for top up…but I think it is quite ' complicated' hhhh….
3.
I think IDR 200.000 not worth!! I prefer Dufan which is more wide and variation and cost IDR 150.000. I'm not thinking to repeat go there unless it is very necessary…and free hahahaha… (just my personal opinion ;p)
Hmmm…that's my Report actually it is great theme park but I wish it was cheaper hahahahahaha…

You Might Also Like :
Exploring Bali Island, Indonesia
Hunting Beaches at Bali Island, Indonesia